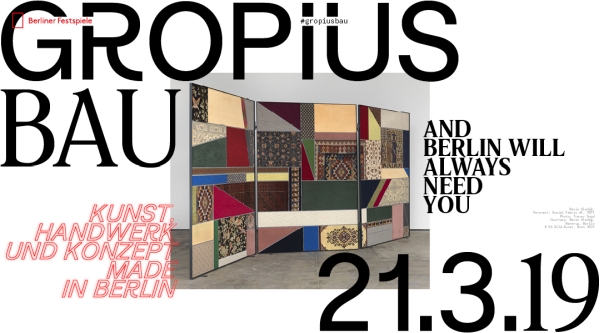 From 22 March to 16 June 2019, the Gropius Bau explores the concept of crafts and handmade processes in Berlin's contemporary art scene, taking its history as a former museum for decorative arts and educational institution as a starting point. When Dorothy Iannone serenaded her friend Mary Harding in 1977, she sang an avowal to the city of Berlin, a place she had moved to only a year before with the DAAD Artists-in-Berlin programme and where she has lived ever since. Her line "And Berlin will always need you" forms the title of the first exhibition presented at the Gropius Bau in 2019.


And Berlin Will Always Need You. Art, Craft and Concept Made in Berlin is a distinctly contemporary art exhibition that sheds light on artists' practices in the city. Presenting an evocative series of existing and newly commissioned works the exhibition engages with traditional methods of production, aesthetics and materiality, and examines historical artefacts and objects. Read more


With works by Nevin Aladağ, Leonor Antunes, Julieta Aranda, Alice Creischer, Andreas Siekmann an the Brukman workers, Mariechen Danz, Haris Epaminonda, Theo Eshetu, Olaf Holzapfel, Dorothy Iannone, Antje Majewski and Olivier Guesselé-Garai, Willem de Rooij, Katarina Šević, Chiharu Shiota, Simon Wachsmuth and Haegue Yang




Curated by Natasha Ginwala and Julienne Lorz
The MOLAF's

Installment No. 21
February 28 – May 12, 2019
Darling Foundry, Montreal, Canada
OPENING RECEPTION

Thursday, Feb. 28th from 18.30 to 22.00
Featuring works from the collection by:
INGRID FURRE + OLOF NIMAR

(NO/SE)


JASON DE HAAN

(CA)


ANTJE MAJEWSKI + OLIVIER GUESSELÉ GARAI

(DE)


SERGE MURPHY

(CA)


JADE YUMANG

(CA)
How to talk with birds, trees, fish, shells, snakes, bulls and lions
Eine Ausstellung von Antje Majewski mit Agnieszka Brzeżańska & Ewa Ciepielewska, Carolina Caycedo, Paweł Freisler, Olivier Guesselé-Garai, Tamás Kaszás, Paulo Nazareth, Guarani-Kaiowa & Luciana de Oliveira, Issa Samb, Xu Tan, Hervé Yamguen
An exhibition by

Antje Majewski with Agnieszka Brzeżańska & Ewa Ciepielewska, Carolina Caycedo, Paweł Freisler, Olivier Guesselé-Garai, Tamás Kaszás, Paulo Nazareth, Guarani-Kaiowa & Luciana de Oliveira, Issa Samb, Xu Tan, Hervé Yamguen
Kuratorin der Ausstellung / Exhibition curator
Hamburger Bahnhof – Museum für Gegenwart – Berlin
Kuratorin der Ausstellung /
Exhibition curator
Exhibition curator
Hamburger Bahnhof – Museum für Gegenwart – Berlin
Staatliche Museen zu Berlin
FLOW MOTŁAWA vol.3 startujemy!
Zapraszamy do GGM2 przy ul. Powroźniczej w piątek 22 czerwca o godz. 19.00 na wernisaż wystawy "W Dzikiej Kocham się Wiśle", która jest efektem ubiegłorocznej edycji projektu FLOW/PRZEPŁYW.
Podczas wernisażu wystąpi duet Małpeczki (Maria Toboła, Maria Kozłowska), który wcieli się w mistrzynie ceremonii, oraz Małgorzata Nierodzińska z performansem "Kolekcjonerka przytuleń".
Wystawę będzie można oglądać od 23.06. do 06.07.2018, od wtorku do niedzieli od 12.00 do 19.00. Wstęp bezpłatny
Wystawę zamknie 6 lipca wieczór performatywny "Sonda ostateczna", po którym nastąpi wypłynięcie na wiślane wody.
Artyści: Dobrawa Borkała, Agnieszka Brzeżańska, Anna Brzozowska, Jakub Gliński, Justyna Górowska, Adam Gruba, Jakub Falkowski, Olivier Guesselé-Garai, Elżbieta Jabłońska, Karolina Karwan, Paulina Kitlas-Śliwińska, Izabela Koczanowska, Tomasz Kopcewicz, Grupa Luxus (Ewa Ciepielewska, Jerzy Kosałka, Małgorzata Plata, Pawel Jarodzki, Bożena Jarodzka, Szymon Lubiński), Antje Majewski, Cecylia Malik, Małpeczki (Maria Kozłowska, Maria Toboła), Tomasz Mróz, Muzealne Biuro Wycieczkowe (Tomek Pawłowski, Rafał Żarski), Gosia Nierodzińska, Dominika Olszowy, Franciszek Orłowski, Sławomir Pawszak, Katarzyna Przezwańska, Karol Radziszewski, Szymon Rogiński, Helena Siemińska, Emilia Sobczuk, Michał Szlaga, Małgorzata Szymankiewicz, Angelica Teuta, Tomasz Wawak, Dorota Walentynowicz, Alicja Wysocka, Patryk Zakrocki, Zuzanna Ziółkowska-Hercberg
Kuratorki: Agnieszka Brzeżańska, Ewa Ciepielewska, Tomek Pawłowski
https://www.facebook.com/flowprzeplyw/
flowczyliprzeplyw@gmail.com
UNTRAGBAR. VON DER SEHNSUCHT NACH VERÄNDERUNG
UNBEARABLE. LONGING FOR CHANGE
Kunst- und Kultursommer 29. April
–
29. Juli 2018
Der Kunstverein KISS im Schloss Untergröningen präsentiert eine große Ausstellung zum Traum des Menschen von einem anderen Dasein. Ziel ist ein Wechsel der Perspektive. Es geht darum, innerhalb der Gegenwartskunst der Fähigkeit nachzuspüren, sich in andere hineinzuversetzen. Im Fokus stehen dabei soziales Gefälle, die Einschränkung von Freiheit und das Verhältnis zwischen Zivilisation und Natur. Auf einer Fläche von rund 1000 qm vereint die Ausstellung 95 Werke unterschiedlichster Medien wie Installation, Plastik, Film, Fotografie, Malerei und Graphik.
Wie beeinflusst koloniale Geschichte unsere zwischenmenschlichen Beziehungen? Welche Blüten treibt unser Zwang, immer besser sein zu wollen als die anderen? Sperren wir uns freiwillig ein, obwohl wir glauben, nach Freiheit zu streben? Wie können wir mit der Natur in einen Dialog auf Augenhöhe treten? Viele Exponate der Ausstellung fordern Empathie und Respekt ein für jene, die in unserer Gesellschaft bisher wenig Beachtung bekommen. Andere laden zum Dialog ein mit dem, was wir kaum kennen oder was uns fremd erscheint. Weitere zeigen liebgewonnene zivilisatorische Werte und deren Kehrseiten, die oftmals aus unserem Blickfeld geraten.
Der angestrebte Perspektivwechsel betrifft unterschiedliche Kulturen dieser Welt, Mensch und Landschaft, Mensch und Tier sowie Gegenstände. Die Künstlerinnen und Künstler mit Wurzeln in Finnland, Frankreich, Kamerun, Mexiko, Nigeria, Polen, Ungarn, Südkorea, Südtirol und Deutschland setzen sich mit ihrer Herkunft und aktuellen gesellschaftlichen Fragen auseinander. Einen weiteren Dialog bildet der inhaltliche und gestalterische Ortsbezug einzelner Arbeiten zum Ausstellungsort Schloss Untergröningen.
Alle Künstlerinnen und Künstler der Ausstellung
Tilmann Eberwein / Tanja Maria Ernst / Filderbahnfreundemöhringen FFM / Olivier Guesselé-Garai / Konrad Henker / Martina Kuhn / Seulmina Lee / Anja Luithle / Tea Mäkipää / Antje Majewski / Gabriela Oberkofler / Anne Römpp / Gabriel Rossell-Santillán / Uwe Schäfer / Katrin Ströbel
/ Emeka Udemba
Ort
Kunstverein KISS im Schloss Untergröningen, Schloss, 73453 Abtsgmünd-Untergröningen
Eröffnung
Donnerstag, 26. April 2018 um 19.30 Uhr
Dauer
29.04.
–
29.07.2018
Öffnungszeiten
Sa 13
–
18 Uhr, So 11
–
18 Uhr, 1.5., 10.5., 21.5., 31.5. 11- 18 Uhr
Information
www.kiss-untergroeningen.de
Kuratorenführungen
So, 27.05., 14 Uhr und So, 03.06., 14 Uhr. Weitere Führungen und Veranstaltungen auf der Website und auf Anfrage.
Kuratorin
Marjatta Hölz, Stuttgart
Der Kunstverein KISS wird gefördert von
Gemeinde Abtsgmünd, Ostalbkreis, Ministerium für Wissenschaft, Forschung und Kunst Baden-Württemberg, Arbeitsgemeinschaft Deutscher Kunstvereine (ADKV), Alfred Ritter GmbH & Co. KG, Schreinerei Riek, Merz Freeform Technologies, Rommelag, Kreissparkasse Ostalb, Theodor Lang GmbH Omnibusverkehr Spedition, Red Werbetechnik Textildruck.








OLIVIER GUESSELÉ-GARAI
TAK TAK NEM NEM
09.12.2017 - 10.03.2018

Wernisaż / Opening: 09.12, 18:00
Godziny otwarcia / Opening hours: śr-pt / wed-fri 15:00-19:00 | sob / sat 13:00-17:00
Londyńska 13, 03-921 Warsaw, Poland | +48 517 09 16 77 |
galeria@polamagnetyczne.com
|
www.facebook.com/polamagnetyczne
|
"The Shadow of the Sun"
Olivier Guesselé-Garai & Antje Majewski
Curator: Aurelia Nowak
Opening of the exhibition: Tuesday, 24.10.2017, 7.00pm
Duration of the exhibition: 25.10 - 09.12.2017
Zona Sztuki Aktualnej, ul. Plac Orła Białego 2, Szczecin
Olivier Guesselé-Garai and Antje Majewski investigate the cultural commodification of objects made in the traditional art of Cameroon. They question the change that takes place in the function and significance of certain objects which have been transported to Europe to be exhibited, archived and preserved since the time of European colonialism in Africa. Through this process, these culturally imbued items have been removed from their original functions and stripped of their contexts. The artists developed the idea for this exhibition after visiting Szczecin's National Museum, where they found objects originating from Cameroon. Working closely with the director of the Department of Non-European Cultures, Ewa Prądzyńska, they admired a collection of cache-sexe (Pikuran): pieces of beadwork to be worn around the hips from the North of Cameroon. They were also interested in basketry and in other items, and decided to go for a research trip to Cameroon in the spring of 2017.
Olivier Guesselé-Garai was inspired by the bright colors and geometric elements of the cache-sexe. As an artist he works on enlarging the concept of abstract geometric art, which he finds in the cache-sexes as well as in Europe's pictorial tradition. Guesselé-Garai presents adaptations of the "cache-sexes" executed by a Cameroonian craftswoman after his own designs. Other works were commissioned from basket weavers. Guesselé-Garai's research in Cameroon, the country of his paternal roots, allowed him to deepen his knowledge of traditional geometric forms and to transform them into a contemporary conceptual language.
Reference is also made to Poland in various ways; by creating a black design for the cache-sexe and giving them a title that refers to the "Black Protest" (#czarnyprotest) against the country's much-debated anti-abortion bill, as well as alluding to Edward Krasinski's blue line and spear.
Antje Majewski's video interview with the modern-day Yaoundé artisans responsible for producing cache-sexe shows that the making of the cache-sexe itself has evolved from the production of a traditional item of clothing to an art-form marketed towards mostly European and American collectors, who purchase the cache-sexe "to hang them on the wall just like paintings". Traditional designs have given way to a multitude of colours and forms, because the collectors value inventive designs. Meanwhile, the village itself had been obligated to "remake the tradition" – to weave new cache-sexes for the occasions of traditional dance, because all the originals had been sold. Majewski's second video, The Birds of Cameroon, shows birds in various situations. The film talks about the relationship of human beings to birds – while most of the time, they are simply seen as meat, on another occasion they can become the double of one's own soul. This video is shown alongside an installation, consisting of a painting of a chicken basket; a chicken basket on loan from the National Museum in Stettin; and a chicken basket that the artists brought back from Cameroon.
The exhibition "The Shadow of the Sun" is connected to the private history of Antje Majewski and Olivier Guesselé-Garai. Both artists have multinational roots: Majewski is German of partly Polish origin and Guesselé-Garai is French of Hungarian and Cameroonian origin. Both see this exhibition as an opportunity to follow the trails of a mixing and shifting of cultures that can happen through both violent and peaceful events in history.
Please visit us also on Facebook:
The show "The Shadow of the Sun" by Olivier Guesselé-Garai and Antje Majewski coincides with a group show "The Shadow Waiting for the Full Moon" at Obrońców Stalingradu 17, which opens also on the 24 October at 8:30PM
23.01.–03.04.2016, Di–So 10–20 h
Vernissage: 22.01.2016 18–22 h
Art & Anthropology. Ethnographische Bezüge in der zeitgenössischen Kunst
Antje Engelmann, Nina Fischer & Maroan el Sani, Olivier Guesselé-Garai, Susan Hiller,
Olaf Holzapfel, Riikka Kuoppala, Cyrill Lachauer, Nadia Lichtig, Antje Majewski, Maix Mayer, Gabriel Rossell Santillán, Thabiso Sekgala und Mathilde ter Heijne.
Kuratiert von Heike Fuhlbrügge und Christine Nippe
Art & Anthropology nutzt ethnographische Methoden, um Bilder des Anderen aufzuspüren: Sprachenvielfalt und unterschiedliche Perspektiven, Eigenes und Fremdes prägen den vielstimmigen Dialog der Ausstellung. Gemeinsam aktualisieren die Beteiligten den Ethnographic Turn in der Kunst. Sie befragen Identitäten, Formen des Zusammenlebens und Sehnsüchte heute.
Die Werke sind dabei von der Auseinandersetzung mit der europäischen Kolonialherrschaft und ihren bis heute spürbaren Folgen sowie durch die aktuellen Verschiebungen im Spätkapitalismus geleitet. Gemeinsam stellen wir uns die Frage: Wie lassen sich mit Mitteln der Kunst alternative Wege des Denkens und Handelns in der Nach-Globalisierung entwickeln? Anschließend an die Writing Culture Debatte, die Mitte der 1980er-Jahre die postkoloniale Ethnologie nachhaltig bewegte, möchte das Projekt einen poetischen Möglichkeitsraum für die Auseinandersetzung mit Identitätsfragen auf Augenhöhe eröffnen. Die künstlerischen Feldforschungen führen uns in so unterschiedliche Kontexte wie Argentinien, Brasilien, Deutschland, Namibia, Mexico oder die Türkei. Gemeinsam fordern die Arbeiten klassische Vorstellungen von kolonialen Expeditionen heraus und erschaffen häufig neue kollaborativ inspirierte Formen. Die Medien reichen von Installation, Film, Fotografie bis hin zu Objets Trouvées.
Das Projekt wird gefördert vom Bezirksamt Neukölln von Berlin, Fachbereich Kultur, und dem Finnland-Institut in Deutschland.
Galerie im Körnerpark

Schierker

Str. 8, 12051 Berlin Tel. +49(30) 5682 3939.
galerien@kultur-neukoelln.de. Öffnungszeiten: Di-So 10-20 Uhr